Mr. Galaxy's Unfinished Dream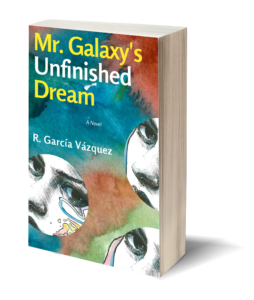 When Callie is whisked away to Paris for two weeks by her affluent and subtly contemptuous mother and sister—before the newlyweds have had a chance to settle into their new life together—Lucas Amado, a distracted working class romantic and part-time graduate student, is overwhelmed by doubt and a sense of foreboding.
Into the breach steps Marla Tupo, a cheerful and attractive, though at times mystifying older woman he meets at his new job. What at first appears to be a harmless affinity between a disillusioned and conflicted young man, and a sympathetic middle-aged divorcée, soon deteriorates into a complicated mutual dependence that leads to devastating consequences.
Lucas tells the story of his desperate battle to save his marriage, family and sanity. Unexpected events over the course of three and a half years, between 1977 and 1980, drive him across real and imagined borders, both at home and abroad, where the lines between reality and dream, and belief and unbelief, are often blurred, and where saints, psychopaths, and everyday people invite glimpses into the darkness and light of the human mind and heart.
Throughout his exhausting odyssey the young husband and father faces choices and perils he could never have imagined, and encounters, through the most unlikely of circumstances, his moment of truth and self-discovery.
For the author's take on the novel, click Mr. Galaxy's Unfinished Dream – Author's Thoughts.
Published by Spinning World Press
No Other Pearl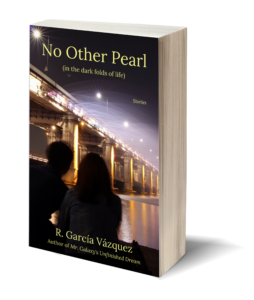 No Other Pearl (in the dark folds of life) includes the following stories:
Venere, Venere; Fort Chance Showdown; The Battlefield; Helen's Pendant; Painting Olivia Tully; Where Are You, Ricardo?; and What the Plate Said.
Venere, Venere – 
Married to Mars, a shameless womanizer, Norma (Venere) meets a strange young man the day of her daughter's wedding who helps her see herself in a different light.
Fort Chance Showdown – 
Civilian workers at a U.S. Army base face the imminent closure of their workplace, and a young logistician finds himself spying on a colleague at the request of his coworker's wife.
The Battlefield – 
A woman's loyalty toward her conflicted husband and unpredictable sister is put to the test. Caught between two people she loves dearly, but who have no use for each other, Bonniah must make the most difficult decision of her life.
…. Read More
Published by Spinning World Press